This post contains affiliate links. I may make a small commission on products you purchase through these links.
Merry Christmas, friends! Wait… not yet, still too early! But we all know that Christmas is on the brain way before we're ready to drag the tree out. When you have kids, taking mental notes and doing internet searches for gift ideas is pretty much a year-round thing.
With the way this year has been going, I'm going to bet many parents are feeling like I am– that we need to make the holidays extra special this year. So that may mean planning your Christmas gifts out even earlier than usual.
Amazon pretty much rules the roost of online shopping these days, and understandably so with the huge selection they offer. But there are so many other businesses out there with amazing products that are high quality, reasonably priced, and UNIQUE. So this year I want to share some of the amazing and unique Christmas gifts for kids that you won't find on Amazon.
As per usual, I am only interested in gifts that further kids creativity and learning. I don't see any purpose in buying something flashy that my kids will just sit and stare aimlessly at, you know? So rest assured that all of these ideas are aimed to help your kids grow their imagination and understanding.
This list only includes items that can't be found on Amazon, or at least are a unique version of a more common idea. When I was researching gifts, I was actually surprised by some of the items I found! For example, did you know Lego has an entire collection that's exclusive to their own site? I didn't!
YOU MAY ALSO LIKE: Holiday Gift Guide for Creative Kids
We are always trying to find the best of the best for our kids, whether that be the highest quality, most expensive, best bang for our buck, educational, or just simply not as common. You'll find all of that and more here.
Everything is separated into generalized groups of being for younger kids, older kids, or anyone. But so many of these can be amazing for a wide range of ages, so go through the whole list! With all the fun gift ideas listed here, it'll be easy to get all your Christmas shopping done at once.
Gifts for All Ages
Biblio

Ok so obviously you can get books on Amazon, but you can't get these prices!!! I am always a bargain shopper for books since we like to read so many, but I also appreciate getting good quality ones. Biblio allows you to search for the books you want and gathers prices from various other sites to find the lowest price for you.
KidsBooks.com
Kids Books is another awesome resource for buying books for cheap– in fact they include a guarantee that their books will be cheaper than Amazon or you get it for free! This site has a really great selection of kids books, so you're sure to find some that interests your children+
Highlights Magazine
A longtime family favorite right here! Highlights sends your kids a monthly magazine filled with fun stories, puzzles, activities, and so much more! The Highlignts magazines are best for ages 6-12, but they also have High Five for 2-6, and Hello for 0-1.
Zoobooks
Zoobooks are another trusted option for a monthly magazine! They have different magazines to choose from based on age just like Highlights. But Zoobooks focuses specifically on teaching kids all about animals!
Kids Discover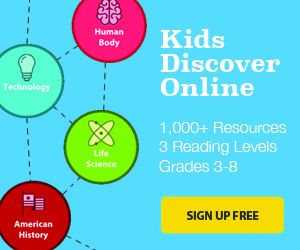 Have to include just one more option for magazines because seriously, what kid wouldn't love getting their own mail every month? Kids Discover is a fun-filled magazine for your kids to learn about a huge variety of topics in a way that keeps them excited to learn more!
Portable Wooden Desk
This wooden lap desk from Magic Cabin is super convenient and allows your kiddos flexibility in where they do their school work, art projects, or even just play with toy figurines.
Hanging Chair
Hearth Song has these suuuuper cool hanging chairs that any kid would love. They can be used inside or outside and are the perfect spot for kids to hang out and relax. They also have a bunch of hanging chair variations, like this hanging tent swing!
Riddle Me
Have you ever done a scavenger hunt yourself or with your kids? If so, you know how fun they are! But trying to come up with your own scavenger hunt that is clever, rhymes, and makes sense can be such a task! Riddle Me makes it easy by generating a huge variety of scavenger hunts and is sure to have many your kiddos will love!
Reindeer Wooden Dreamcatcher Kit
This Reindeer Dream Catcher kit is a beautiful craft to make for the holidays! It says that it's for 5 and up, and that is probably true if you want the end result to look how it's supposed to, haha. But the steps involved aren't actually too complicated and could be some great fine motor skills practice for your younger kiddos!
Certifikid
Certifikid in itself isn't a gift, but it can be used to search for some unique local options! Sign up to find events and amazing deals both local and across the nation. You can gift your children awesome experiences without spending a fortune!
Periodic Table Connectagons
My kids are OBSESSED with their connectagons, and yours will be too with this gift! Hearth Song offers these super cool Periodic Table ones, which is perfect for any science lovers.
Portrait puzzles
This is such a cool idea and one I think we'll be getting this year! You send them a picture, and they turn it into a puzzle— how cool is that? The best past is you can get smaller pieces for more of a challenge, or large pieces for younger kiddos.
Younger kids
Nature Themed Cloaks and Butterfly Wings
What kid doesn't love to play pretend, right? Magic Cabin has these gorgeous cloaks for your little one to grow their budding imagination. While we're at it, check out these realistic butterfly wings from Hearth Song!
Uniquely-Themed Building Blocks
Sure, you've probably seen building blocks all over the place, but how about some unique ones you won't find anywhere else? Uncommon Goods has a set of nursery rhyme building blocks that are perfect for encouraging those memorization skills. They also have ones with elements from the periodic table for my fellow nerd parents!
Clubhouse Tent
Your kids will have so much fun hanging out in this fun play tent from Bass Pro Shops! It looks like a real clubhouse with it's "wood" picture design and "keep out" signs.
Sensorial Activities
I love this play set so much– it's such a cool idea! Montessori Services has a wooden manipulatives game for younger kids to work on matching skills. Included is a set of 20 3D wooden shapes with their matching puzzle tile for kids to pair up.
World Map Coloring Tablecloth
What a cool way to get kids familiar with geography! This tablecloth map can be colored in and talked about during lunch or tea time. The best part? Just wash with warm water to clean it off and start all over again!
Realistic Baby Doll
If you have a little one that loves playing mommy or daddy, you have to check out these realistic baby dolls from Eveseed! They have a bunch of variations to choose from, and they are all super detailed. It could be a perfect way to introduce the idea of a new sibling, or simply be a more lifelike pretend friend when they're playing.
Chalkboard Fantasy Fort
For something a bit more elaborate that they can tunnel through, check out this Chalkboard Fantasy Fort by Hearth Song. It looks AMAZING.
Sticks and Building Blocks Set
This set is perfect for the eco-conscious or nature-loving family. The Tot has a building set of blocks and sticks made from wood that will encourage a ton of open ended play for your little one. They have a ton of other amazing stuff in this store as well, but admittedly it's on the pricier side. But if you're looking for high quality then this is the store to check out!
Older kids
Build Your Own Pinball
How stinkin' cool, right??? Your kiddo can not only build their own pinball machine, but actually use it afterwards! It requires no tools and is an awesome exercise for their inventor skills.
Fairy tale sewing Kit
This is great for working on more advanced fine motor skills. Your kiddo can put together their very own puppets. Between making them and playing with them after, this Fairy Tale Sewing Kit has the potential for a lot of entertainment!
On-the-Go Craft Kits
These on-the-go coloring kits are the perfect way to keep kids productively occupied when away from home. This bundle provides tons of options for whatever they're feeling creative about at the moment!
Mother-Daughter Letter Book Set
As someone with a daughter growing way too fast, this gift really stands out to me. This mother-daughter letter book set provides over 40 cards/envelopes to pass between mother and daughter as a keepsake to look back on forever. I can't think of anything more sweet than preserving these memories to fly by too quickly!
DIY Ladybug House
Baker Ross has some of the coolest DIY projects for kids! This Ladybug House is such a fun and unique idea. They can decorate it, build it, and then observe the ladybugs that decide to live in it!
SECRET LEGOS
In case my all-caps didn't indicate it well enough– this is suuuper awesome! Did you know Legos has sets that you can ONLY get from their site?? I didn't! Some of the options include the Disney castle, the Hogwarts castle, Dinosaur fossils, and more. The parts are small though, so best for older kids.
Jellyfish Aquarium
This one isn't really a toy, but is so stinkin' cool and I really think your older kiddos will get a kick out of it. Get them their own jellyfish aquarium! The jellyfish aren't really of course, but this aquarium is still very mesmerizing for kids.
Gizmo the Robotic Dog
So I'm not usually a huge fan of electronic toys, but let's face it: kids love them. And this one is actually pretty cool. Your kiddo will love this robotic dog that actually does tricks!
Crayola Steam Kits
Ok here's another one you can only get on the brand's site I wouldn't have guessed. Crayola has STEAM kits called creatED to keep kids from falling too far behind with with the school closures. They would be perfect for homeschooling, but they're also just really cool for a gift!
Root Beer Science Kit
Does it get any better than science and treats? Your kiddos will love experimenting and learning how to make their own root beer. The best part is if it works out, they get to sip on some root beer afterwards!
There are so many unique ideas for Christmas gifts to make this year special for your kids. Of course making the season special goes so far beyond just opening gifts, but I know that's an important part for many of us parents! I will keep an eye out for more gift ideas to spread some holiday cheer, so check back OR subscribe below to stay in the loop.
Pin for later